Buy WhatsApp Virtual Number for SMS Verification
In today's interconnected digital world, communication is key. And when it comes to instant messaging, WhatsApp stands as a global leader. It has revolutionized the way we connect with friends, family, and colleagues. However, maintaining your privacy and security while using WhatsApp can sometimes be a concern. This is where buynumber.io steps in, offering you the perfect solution - WhatsApp virtual numbers.
Unlock Your Privacy with an Anonymous WhatsApp Virtual Phone Number
Are you tired of sharing your personal phone number for verification purposes? Concerned about your privacy being compromised? Look no further! Buynumber.io brings you the ultimate solution to safeguard your personal information - anonymous WhatsApp virtual phone numbers.
With an anonymous virtual phone number, you can verify your WhatsApp account without revealing your actual phone number. This added layer of privacy ensures that your personal details remain secure, while you continue to enjoy the seamless communication features of WhatsApp. Say goodbye to unwanted spam calls and messages, and hello to a worry-free messaging experience.
Seamless and Secure Payment with Crypto & Bitcoin
At buynumber.io, we understand the importance of privacy extends beyond communication. That's why we offer you the option to buy your virtual WhatsApp number using cryptocurrency like Bitcoin. Embracing cutting-edge technology, we enable you to make secure and discreet payments, ensuring your financial information remains confidential.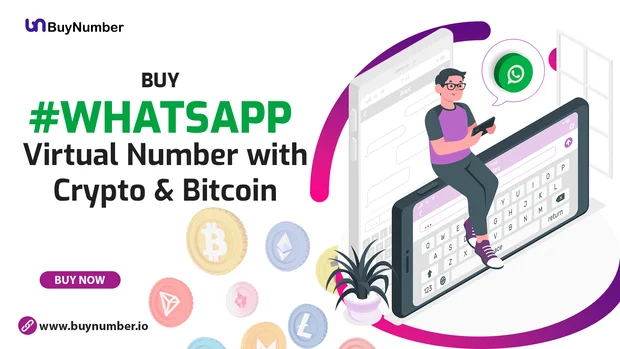 By accepting cryptocurrency as a payment method, we prioritize your security and convenience. Your transactions are protected by blockchain technology, making them traceable and tamper-proof. This aligns with our commitment to provide you with the highest level of security while availing yourself of our services.
Buy Cheap WhatsApp Virtual Number
Contrary to popular belief, privacy and security don't have to come at a steep price. Buynumber.io offers you the opportunity to buy cheap WhatsApp virtual numbers without compromising on quality or service. We believe that everyone deserves to experience the peace of mind that comes with maintaining control over their personal information.
Our cost-effective virtual numbers are designed to fit seamlessly into your budget. Whether you're a frequent traveler, a business owner, or simply someone who values their privacy, our affordable virtual numbers ensure you can enjoy WhatsApp without worry.
Why Choose Buynumber.io for Your WhatsApp Virtual Number Needs?
Unrivaled Privacy: Your personal information remains shielded, allowing you to enjoy WhatsApp without exposing your actual phone number.
Effortless Verification: Get verified on WhatsApp without the hassle of sharing your personal phone number.
Security-First Approach: We accept cryptocurrency payments, guaranteeing secure and private transactions.
Budget-Friendly Options: Our cheap virtual numbers make privacy accessible to all.
24/7 Support: Our dedicated customer support team is always available to assist you, ensuring a smooth experience from start to finish.
How to Get Your WhatsApp Virtual Number from Buynumber.io
Choose Your Plan: Browse our range of plans to find the one that suits your needs and budget.
Select Cryptocurrency Payment: Opt for the cryptocurrency payment option at checkout for enhanced security.
Receive Your Number: Once your payment is confirmed, you'll receive your virtual number along with easy-to-follow setup instructions.
Start Messaging: Verify your WhatsApp account and start enjoying private and secure communication.
In conclusion, at buynumber.io, we understand the value of privacy in today's digital landscape. Our WhatsApp virtual numbers provide you with a simple, affordable, and secure solution to protect your personal information while enjoying the benefits of instant messaging. With our focus on anonymity, convenience, and quality service, we invite you to explore our range of plans and take control of your privacy today. Embrace the future of communication with buynumber.io - where your privacy is our priority.
Frequently Asked Question
Unleash the Power of Our Virtual Number Features, Discover the Versatility
BuyNumber.io is a virtual WhatsApp number selling platform that offers temporary phone numbers for the sole purpose of verifying WhatsApp accounts. These numbers are available at reasonable and affordable prices, ensuring your privacy and anonymity during the verification process.
To get started, you need to register on BuyNumber.io. After registering, you can top up their account balance using Bitcoin or crypto or other payment methods. With a sufficient balance, you can easily purchase a temporary virtual WhatsApp number for account verification.
Temporary virtual numbers are ideal for maintaining your privacy while verifying your WhatsApp account. They prevent the need to associate your personal phone number with your WhatsApp account, giving you greater control over your personal information.
The virtual numbers provided by BuyNumber.io are intended solely for the purpose of verifying your WhatsApp account. They are temporary and will be valid for a short duration, typically long enough to complete the verification process.
Yes, privacy is a top priority at BuyNumber.io. Your personal information is not shared, and the temporary nature of the virtual numbers adds an extra layer of privacy.
Topping up your account balance is easy. Simply log in to your BuyNumber.io account, navigate to the balance section, and follow the instructions to complete the payment.
Yes, BuyNumber.io provides you with a selection of available virtual numbers. You can choose the one that suits your needs from the list of options.
Once you've successfully verified your WhatsApp account using the virtual number from BuyNumber.io, the number's purpose is fulfilled. Then the number will be permanently unavailable and will not be provided to any other user to maintain your privacy
BuyNumber.io has a dedicated customer support team ready to assist you. If you encounter any issues, feel free to reach out to our support for prompt assistance. You can find our contact information on the BuyNumber.io website. Also, if you fail to receive a confirmation code for any reason, the cost will be returned to your account and you can get a new number.
We accept payment through Bitcoin, Litecoin, Ethereum and other cryptocurrencies, and more payment methods will be added soon.